PREDIF is today a reference in the field of accessible tourism, it chairs the Inclusive Tourism and Leisure Commission of the State CERMI, and its protocols and accessibility criteria are those agreed upon by the entire disability sector.
Since 2002, PREDIF has been developing an Inclusive Tourism programme through which it works on awareness raising, training, consultancy and research on accessibility and attention to the public, with diverse needs, in tourism and leisure, in collaboration with public entities, foundations and private companies in the sector.
In order to contribute to the normalisation of tourism, leisure and cultural activities for people with disabilities, so that they can be carried out and enjoyed under the same conditions as the rest of the population, as established by the Convention on the Rights of Persons with  Disabilities and its Optional Protocol, approved on 13 December 2006 by the United Nations (UN), PREDIF carries out the following actions:
Representation of Persons with Disabilities in working groups and commissions in the tourism sector.
Analysis of the accessibility conditions of the Spanish tourist offer and information on its characteristics aimed at people with disabilities and the general public.
Technical advice to public and private entities in the tourism sector on accessibility and attention to the public with disabilities and other diverse needs.
Training in accessible tourism.
In the following link you can obtain more information about PREDIF's experience in the field of Accessible Tourism: http://www.tur4all.com/que-hacemos
TUR4all Platform
TUR4all, "Accessible Tourism for All", is a collaborative digital platform that provides specific and accurate information on the accessibility requirements that tourist resources meet.
When it comes to tourism, one of the recurring demands of people with disabilities and with accessibility needs in general, is to have objective information on the accessibility of the destination, its transport, its tourist establishments and services and its leisure activities, in order to plan their trip in advance, and TUR4all – Organise your trip – makes this possible.
UR4all publishes the set of tourist resources analysed by PREDIF accessibility experts and those introduced by users through an evaluation questionnaire. In addition, users can, among other things, comment on the tourist resources and rate their level of accessibility and attention to the public with accessibility needs.
In 2012, PREDIF and Fundación Vodafone created the first version of TUR4all, the aim of which was to provide users with reliable information contrasted by experts on the accessibility conditions of tourist establishments throughout Spain. In 2016, both entities considered it important to continue the project and turn TUR4all into a community of active users and tourists with accessibility needs into prescribers
of accessible tourism.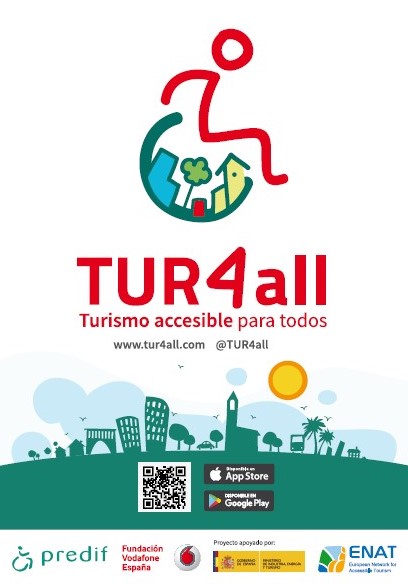 At FITUR 2022 TUR4all received the FiturNext Challenge 2022 award for its contribution to accessible tourism and the new user booking option for tourist resources verified by PREDIF technicians was announced. The new version of the TUR4all platform has the support of ENAT (European Network for Accessible Tourism) and the Secretary of State for Tourism, as it is an EMPRENDETUR I+D+i 2/2015 project. This improved version of the platform allows: Increase the database of accessible tourism resources in a collaborative way, making the users its protagonists.
Create interaction with and among users to form an active community linked to social networks. Internationalise TUR4all and obtain information on tourist resources outside Spain. Make reservations by the user in tourist resources validated by PREDIF technicians.
Use the platform in 11 languages: Spanish, English, French, German, Portuguese, Italian, Mandarin, Catalan, Valencian, Basque and Galician.
To offer managers of tourist destinations, establishments and services the opportunity to know the opinion of their customers with accessibility needs.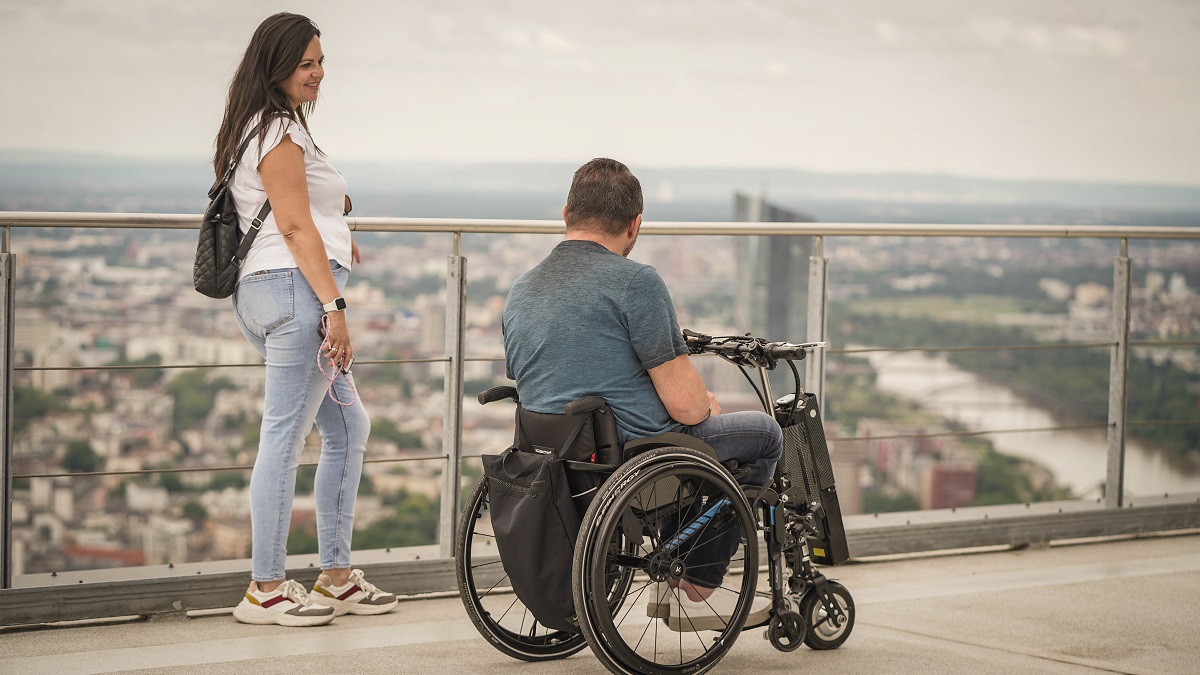 As in the first version, TUR4all offers information on physical, visual, auditory, cognitive and other types of accessibility needs of travellers. The establishments analysed by PREDIF accessibility experts differ from the establishments entered by users and offer more detailed information on the accessibility conditions of facilities and services. Our goal with TUR4all is to improve accessible tourism worldwide. We also aim to empower tourists with accessibility needs to share information about accessible destinations and experiences and to
build confidence in others to travel.
We also want to raise awareness among tourism destinations and establishments about the benefits of accessibility for their development and growth, and for their businesses.
In conclusion, TUR4all is a solution for tourists, for public administrations and for private companies.

Image credit: PERDIF bank of images